This was a result of rainy afternoon… Lighting candles, relaxing, and baking! I have tried to make the perfect banana cake with little success! However, I was very happy with myself when I tasted this recipe. I made this cake twice, the first is the cake shown in the above photos. The second is the photo below where I cut the cake into squares and layered with icing! Whatever you decide to do it will always taste delicious!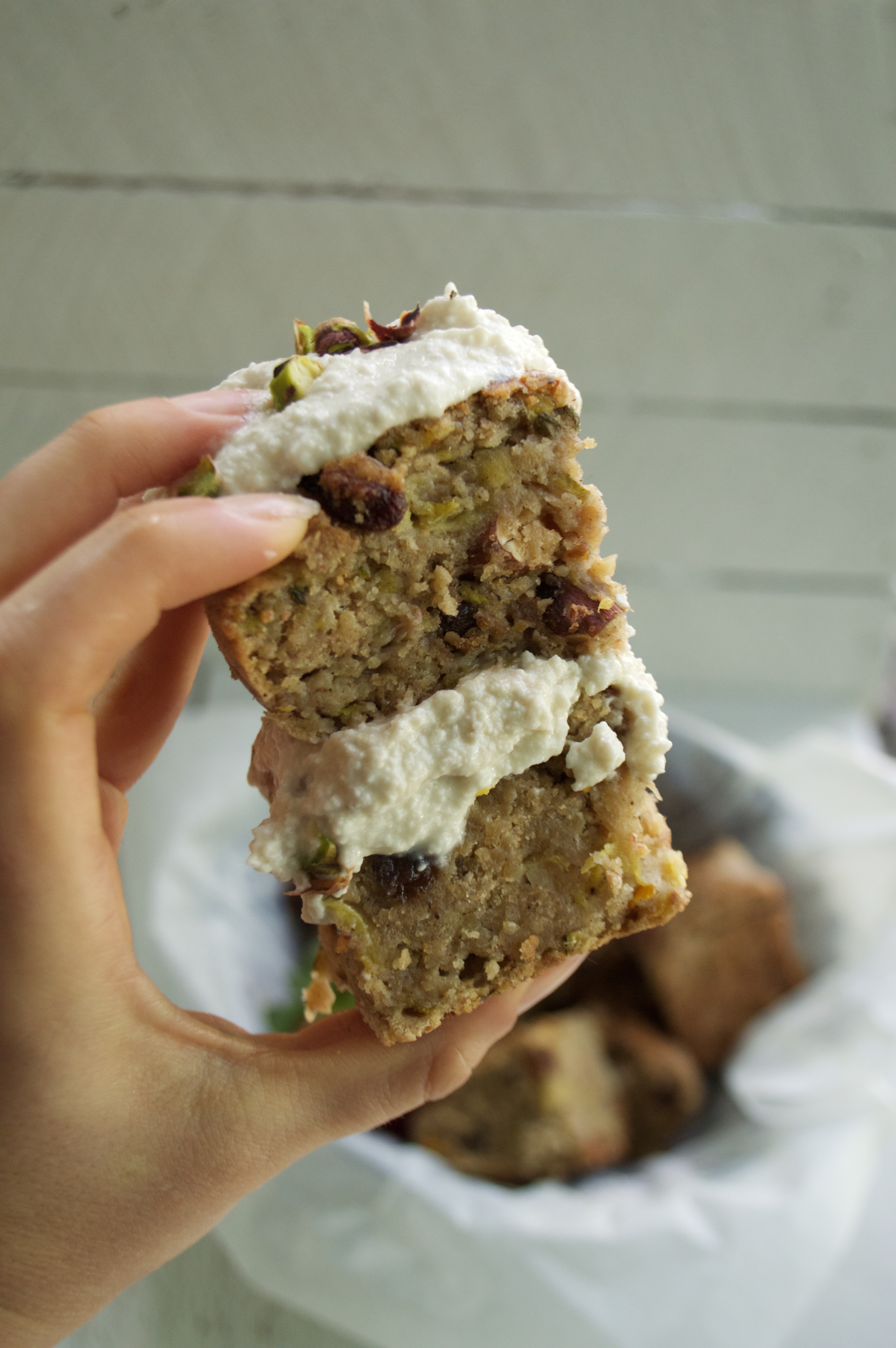 This cake is packed full of nourishing ingredients that are kind to your body! Bananas are a rich source of potassium and pectin, a form of fibre so they are great for your digestion. Zucchinis are low in calories, contain no saturated fat, and are packed full of minerals and vitamins such as vitamin C. Oats are very high in fibre which help lower cholesterol.
Vegan/ Gluten free/ Dairy free/ Refined sugar free
Zucchini & Banana Cake with Citrus Cashew Icing
Ingredients
2 1/2

cups

organic oats

5

very ripe bananas

1

large grated zucchini

about half a cup

1/2

cup

+ 2 tablespoons apple sauce *

see notes

1

tablespoon

orange zest

2

tablespoons

melted coconut oil

I use Nakula organic

1/3

cup

organic maple syrup

1

teaspoon

cinnamon

1/2

teaspoon

vanilla powder

1

handful rasins

1/2

teaspoon

baking powder

1

handful chopped nuts

I used raw almonds

Citrus Cashew Frosting//

1/2

cup

cashews soaked 3-4 hours

2

tablespoons

coconut oil

3

tablespoons

maple syrup

1/2

lemon juiced

1

teaspoon

lemon zest

1/2

teaspoon

vanilla powder
Instructions
Pre heat oven to 180*

Mash the bananas in a mixing bowl, add in maple syrup, zucchini (when grated, make sure you squeeze out the water with your hands), orange zest, coconut oil, cinnamon, baking powder, vanilla, raisins, nuts and stir well.

Place oats in a blender and blend into flour, add into the bowl with wet ingredients, add in apple sauce and stir until combined.

Line your cake tin or bread tin with baking paper and place in oven for 50 mins.

When it's done, take out and leave in tin for half an hour.

Meanwhile, add all icing ingredients in the blender and blend until creamy and cover the top of the cake with icing!
To make 1/2 cup apple sauce, peel skin off two pink lady apples, take out the core and chop up into squares. In a saucepan, bring to boil a small amount of water and add in apples. Simmer on a low heat for about 15 mins or until very soft. Drain out water and blend it up!