Vegan/ Gluten free/ Sugar free
As promised via my Instagram page, this week I'm sharing with you one of my favourite dinners of all time… sweet potato dahl! Yes it's a relatively simple meal and that's what I love about it. Dahl is an indian cuisine made using nourishing spices that are amazing for your digestion and overall wellbeing!
Lentils are a great source of cholesterol-lowering fibre which helps prevent digestive disorders such as irritable bowl syndrome. Lentils also are great to balance blood sugar levels while providing steady, slow-burning energy.
Sweet potatoes are one of my favourite vegetables! The creamy texture is perfect for this meal and they also contains lots of vitamins including vitamin A in the form of beta-carotene, vitnain C, B6, manganese, and copper. Sweet potatoes are a great source of fibre filling you up and keeping you healthy!
♥♥♥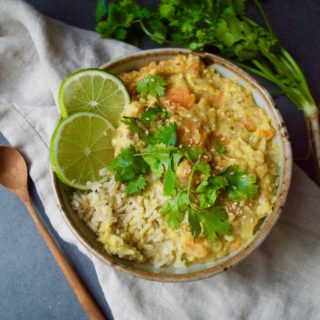 Nourishing Sweet Potato Dahl
Ingredients
1

cup

red lentils

soaked in water for 6 hours or overnight as this helps for proper digestion

2

cups

sweet potato chopped

2

cups

low salt liquid vegetable stock

1

cup

organic coconut milk

I used Nakula

2

cloves

crushed garlic

1

tbs

coconut oil

1

large onion

1

lime juiced

1

medium red chilli chopped

if you like it spicy

1

cup

spinach leaves

Spices//

1

tbs

ginger grated

1

tbs

indian curry powder

1

tsp

ground turmeric

Topping suggestions//

Fresh coriander

Lime juice
Instructions
In a large pot, heat oil and cook onions and garlic for a few minutes with all the spices to enhance the flavours.

Rinse the lentils under water then add to the pot along with all remaining ingredients (except spinach) and let simmer on a low heat for approximately 30-40mins or until sweet potato is very soft.

Turn off heat, stir through the spinach and with a wooden spoon start mashing the sweet potato to get the dalh nice and thick. Let it sit for 5-10 mins then serve on its own or with rice (my favourite is brown basmati).

Topped with lime juice and fresh coriander!

Enjoy the goodness xx