Today I wanted to share with you a bit of a fun chocolate cereal recipe that I've been loving lately! Making your own cereal is the way to go because you control what ingredients goes in it. Unfortunately, the wide range of cereals available in the supermakert are usually full of processed sugars, colourings and preservatives. Even some of the "healthy" cereals contains large amounts of sugar!
Crunchy
Healthy
Delicious
♥♥♥
Recipe health benefits 
This recipe contains delicious puffed grains including buckwheat, millet and quinoa which are all  great gluten free grains packed with essential amino acids and protein! Oats are high in fibre keeping you fuller for longer throughout the morning. Cacao is high in antioxidants and is known to cross the blood-brain barrier which helps protect the nervous system. Almond butter is high in vitamin E, calcium, magnesium which contributes to healthy bones.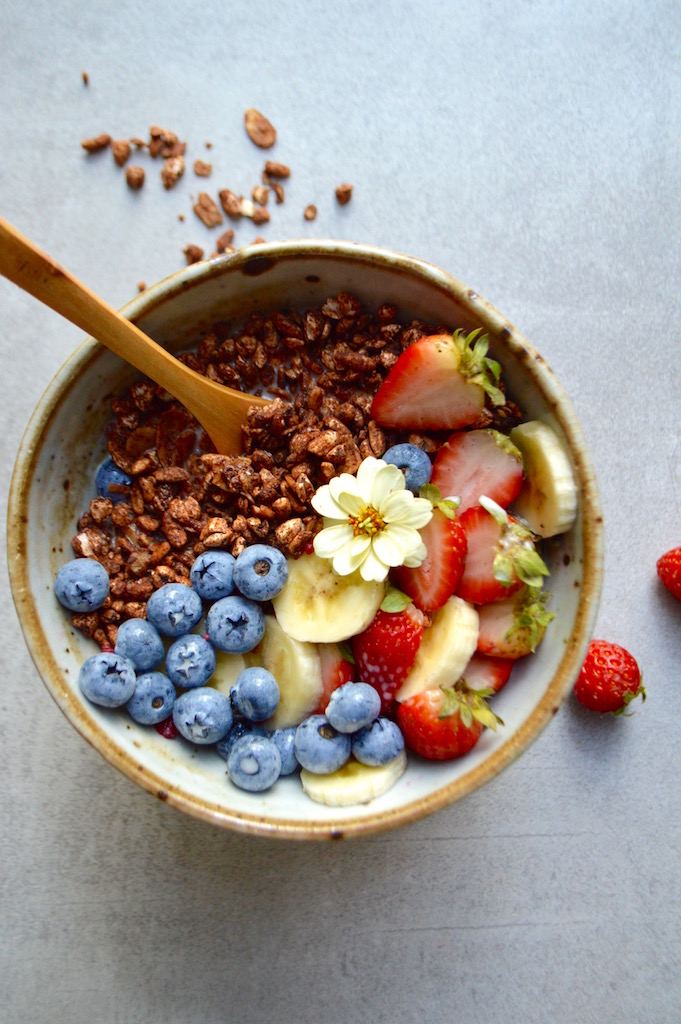 Vegan/ Gluten free/ Processed sugar free
Making this cereal is very easy to make, contains minimal ingredients and is the perfect alternative to supermarket cereals! Serving suggestions: I suggest serving this with plant-based milk of your choice and top with your favourite fruits. Alternately, you can serve with yogurt or on top of a chocolate smoothie bowl!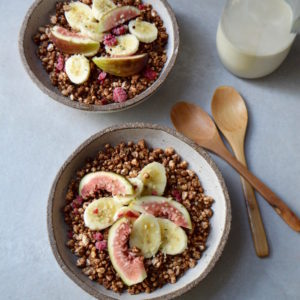 Chocolate Puffed Cereal
Ingredients
Dry ingredients:

1 1/2

cups

puffed buckwheat

1 1/2

cups

puffed millet

1

cup

puffed quinoa

1

cup

GF oats

3

Tbsp.

cacao powder

1/2

tsp.

cinnamon

Wet ingredients:

1/2

cup

almond butter

1/3

cup

coconut oil

1/4

cup

maple syrup
Instructions
Pre heat oven to 160*C.

In a large mixing bowl mix together all dry ingredients.

Heat a small saucepan and add wet ingredients, keep stirring with a spoon until melted.

Pour into the dry ingredients bowl and mix together well until all ingredients until every things incorporated.

Line baking paper on a baking tray, pour on mixture, spread out evenly and place in oven.

Cook for about 15-20mins checking and stirring occasionally so it doesn't burn.

Once cooked take out of the oven and let cool completely.

Transfer into a airtight jar and enjoy!