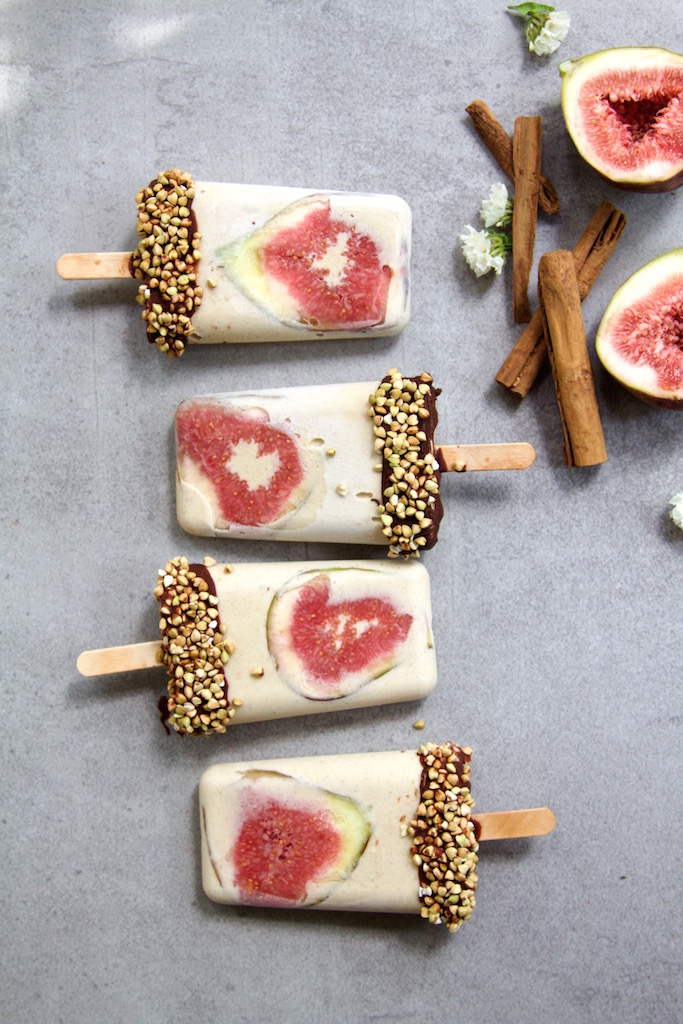 Vegan/ Gluten free/ Dairy free/ Refined sugar free
Last week I decided to make vegan ice creams (as you may of seen on my Instagram!). They got a lot of attention, but of course I needed to make sure the the recipe was perfect before I could share with you all. This week was my second time making these and oh they are sooo good! Actually it was the perfect treat to cool down because we have been experiencing warm humid weather here.
This recipe is made using coconut cream in replace of dairy. The caramelised bananas and figs adds a sweet, creamy and delicious flavour and the bottom layer is dark chocolate dipped in buckwheat! Enjoy xx
Caramelised Banana & Fig Ice creams
Makes 8 Ice creams You will need: ice-block moulds + paddle pop sticks Blender Large mixing bowl Electric mixer
Ingredients
Caramelised banana

2

medium ripe bananas

1/4

cup

coconut sugar

1/3

cup

almond milk

Ice creams

2

cans coconut cream chilled in fridge over night

I used the brand nakula and it worked the best for this

1/2

cup

almond milk

1/3

cup

coconut sugar

2

figs

1/2

tespooon cinnamon

Chocolate layer

1/2

block good quality dark vegan chocolate

1

teaspoon

coconut oil

1/3

cup

buckwheat
Instructions
Pre heat oven to 180 degrees.

Line a baking tray with baking paper, peel the bananas and break into small chunks and place in a bowl. Add coconut sugar and stir together until bananas are fully coated. place in oven and cook for 15- 20mins until soft.

Once the bananas are done let them cool down completely. Once cooled place in a blender with the almond milk and blend until creamy. Pour in a cup and place in fridge.

Place your mixing bowl in the freezer for 10 mins prior. Take out coconut cream from the fridge and the water and cream should of separated. Scoop out the white cream only! You don't want the water (you can save the water for a curry if you don't want to waste it).

Once the cream is in the bowl, mix with the electric mixer until light and fluffy.

Add in the caramilised banana mixture, cinnamon, and almond milk and mix again until combined (should take about 1 min).

Get your moulds ready and slice figs longways and place one piece in each of the moulds.

Pour in the ice cream mixture and making sure there are no air bubbles, place in paddle pop sticks and freezer for 6 hours (or overnight).

To get the ice creams out of the moulds, run warm water on them and gently pull them out.

To make with chocolate layer, pour water in a saucepan and bring to a light simmer. Add in a bowl and place the chocolate and coconut oil in until melted. Once melted, with a spoon pour on chcocoate onto the bottom of the ice creams and quickly add on the buckinis (because it will harden fast).

If you don't eat them all then simply store in freezer!