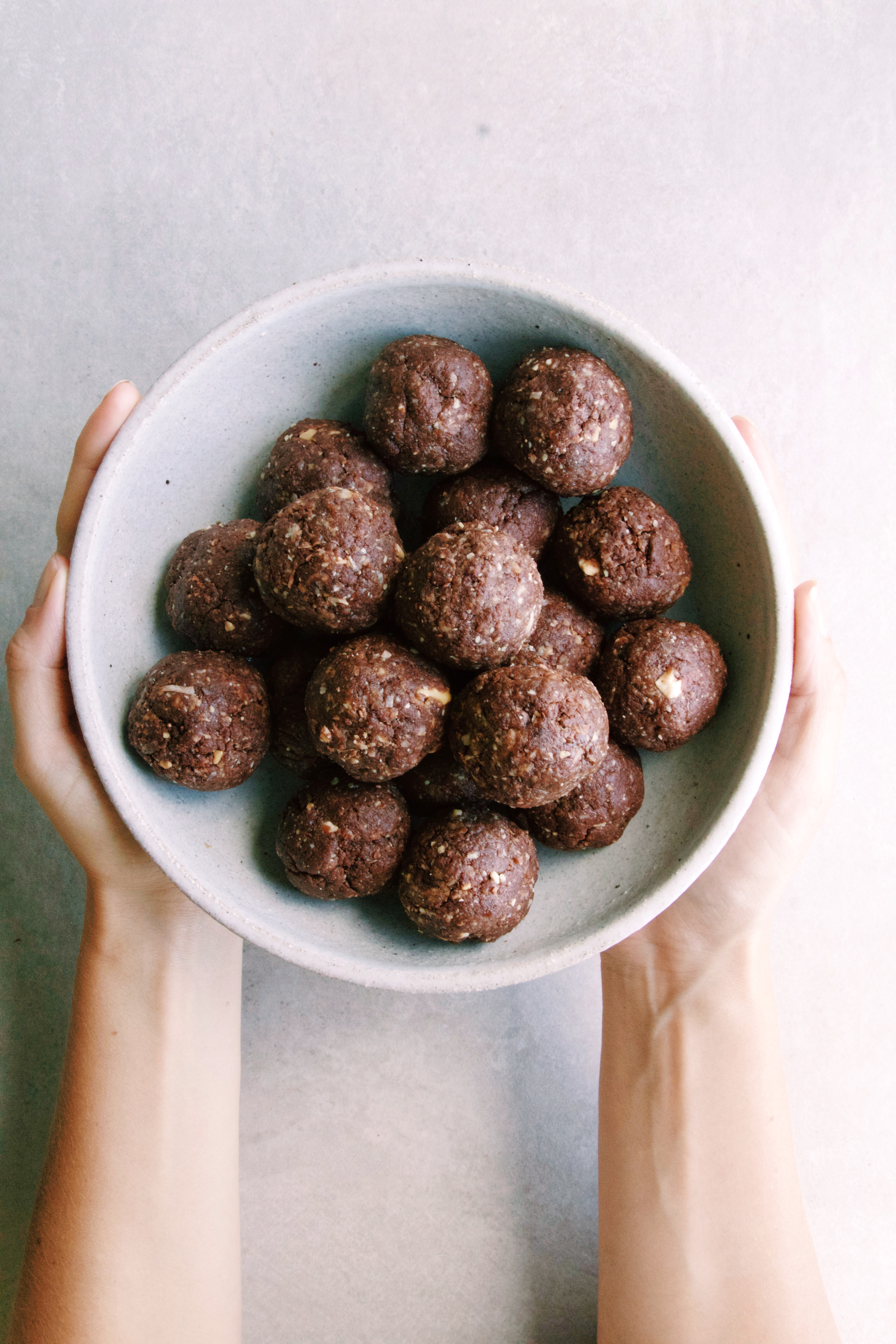 These Cacao and Peanut butter Protein balls are a delicious snack to take to lunch or if you're just after a sweet treat! If you love peanut butter and chocolate then these are for you! Not only are they delicious, they are also good for you. There are so many snack options on the market today that claim to be healthy by putting words like sugar free, gluten free, vegan etc ect… however don't be fooled as a lot of the time they can be a unhealthy choice. It's always best to make your own so you control what goes in them! Plus they taste better too 😉
Cacao + Peanut Butter Protein Balls
Makes 10 Balls
Ingredients
9

Medjool dates

2

heaped Tbsp natural peanut butter

1/2

cup

roasted unsalted peanuts

or any other type of nuts will do

1/3

cup

oats

1/2

cup

shredded coconut

2

Tbsp

cacao powder

1

scoop vanilla pea protein powder

Pinch

of himalayan salt
Instructions
Remove pits from dates and add them to a bowl. Pour hot water over them to soften for approximately 5 mins.

Once the dates are soft, pour out all the water and place into a food processor or high speed blender along with the peanut butter and salt then blend until smooth.

Add in all remaining ingredients and blend together. Don't over blend as you still want some chunky bits in the mixture. If you are having trouble blending (I had a little) you can always stop and mix it together with a spoon then blend again.

Scoop out into a bowl and roll small amounts in your hands into balls and continue with the remaining mix.

Store in an air tight container in fridge and enjoy!