Why Is This Good For Me?
Vegan/ Gluten Free/ Dairy Free/ Processed sugar free
This raw cheesecake is to live for, a delicious dessert with health benefits – yes please! I have been thinking about making a raw cheesecake for a while but couldn't make up my mind what flavours to use. I wanted something with a bit of a zingy kick and these flavours work really well together. Lemon is high in vitamin C, which is an antioxidant vital for a strong immune system. Ginger aids in the detoxification of the body which can often be helpful when you have a cold, flu or just feeling run down. Ginger is also good for stomach upsets, dizziness and nausea.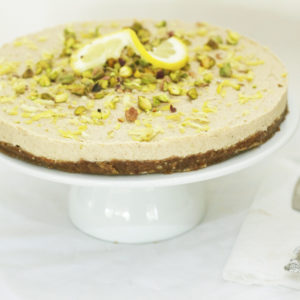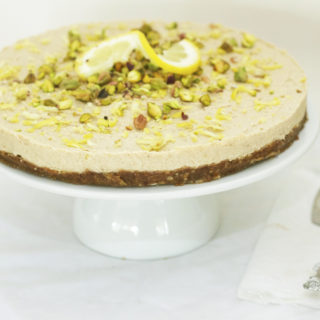 Ingredients
Base:

1 1/2

cup

nuts

I used soaked almonds and macadamias

1

cup

medjool dates

remove seeds

2

tablespoons

coconut oil

1

tablespoon

fresh grated ginger

pinch

of Himalayan salt


Filling:

2 1/2

cups

cashews soaked for 3-4 hours

1

cup

medjool dates soaked in warm water for 15 mins

remove seeds

3

tablespoons

fresh grated ginger

2

lemons juiced

2

tablespoons

of lemon zest

1

teaspoon

natural vanilla essence

4

tablespoons

coconut oil
Instructions
Blend all the ingredients for the base together for about 45 seconds or until it is well combined. It will become a dough like texture.

You will need a round spring form cake tin, pour the mixture in the tin and with your fingers push down until all the base is covered.

Place in freezer for 1 hour.

Place all ingredients for the filling into blender or food processor and blend for about 45 seconds or until the mixture is well combined.

Take the base out the the freezer and pour the filling on top of the base, smooth over the top with a icing knife.

Place back in freezer for about 3-4 hours.

Take the cheesecake out the the freezer and with a knife go around the sides making sure it's not sticking.

Carefully take the cheesecake out of the tin and place on a cake plate.

You can use any topping you desire! I used lemon zest, grated ginger, and pistachio nuts.

Store in freezer.