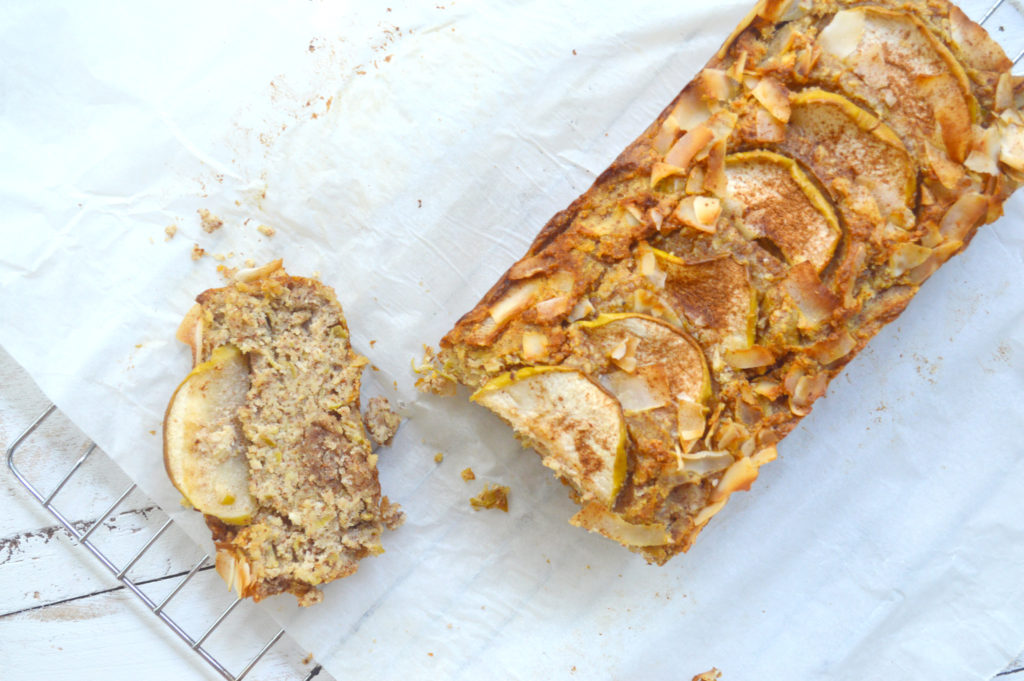 Why Is This Good For Me?
Vegetarian/ Gluten free/ Refined sugar free
This apple, cinnamon & coconut loaf is so incredibly delicious! Take a slice as a guilt free snack or enjoy with a relaxing cup of tea… you don't need to add any toppings as the flavours are perfect the way they are but if you want to have as a dessert I suggest adding a scoop of natural yogurt or coconut yogurt and berries. I used H2Coco coconut oil because of it's lovely flavour and it is not overpowering in the loaf. Using coconut oil for baking is a great choice as it can be heated up at high temperatures. I would suggest using coconut oil instead of oils like canola, corn and soy oils as these turn rancid when heated and should not be consumed.
Apples are packed with soluble fibre, because of the fibre  you will feel fuller for longer making apples the perfect sweet snack. They are also a good source of the immune boosting vitamin C, contain antioxidants and pectin.
Cinnamon helps to regulate blood sugar levels in the body which is especially beneficial for type 2 diabetes. Cinnamon also helps to improve circulation and is full of antioxidants. To get your daily intake, try adding half a teaspoon on some natural yogurt and berries or add to your smoothies in the morning.
Apple, Cinnamon & Coconut Loaf
You will need: baking paper and a bread loaf tin.
Ingredients
3 green apples grated (you may use red apples)
2½ cups ground almonds
2 eggs (vegan option: 2 flax eggs)
½ cup desiccated coconut
¼ cup coconut oil
¼ cup rice malt syrup or sweetener or choice
½ teaspoon cinnamon
½ teaspoon gluten free baking soda
2 tablespoon fresh lemon juice
Toppings
1 apple thinly sliced
coconut flakes (optional)
½ teaspoon cinnamon
Instructions
pre heat oven to 160 degrees.
In a large mixing bowl, add in grated apples, coconut oil, rice malt, cinnamon, baking soda, eggs and lemon and mix together.
Add in ground almonds and mix well.
Line your bread loaf tin with baking paper and pour in mix, topped with your sliced apple, sprinkle cinnamon and coconut flakes then place in oven.
Baking time: bake for 1 hour 15 mins it may take more or less time depending on your oven.
When you think it is ready, with a knife poke into the cake and if it comes out clean it will be ready.
Let cool completely on a cooling tray, enjoy warm or store in fridge.
Best to be eaten within a week.
Make with love xx
I love seeing your creations!
Tag me on instagram @lifeofgoodness_ and hashtag #lifeofgoodness
xx