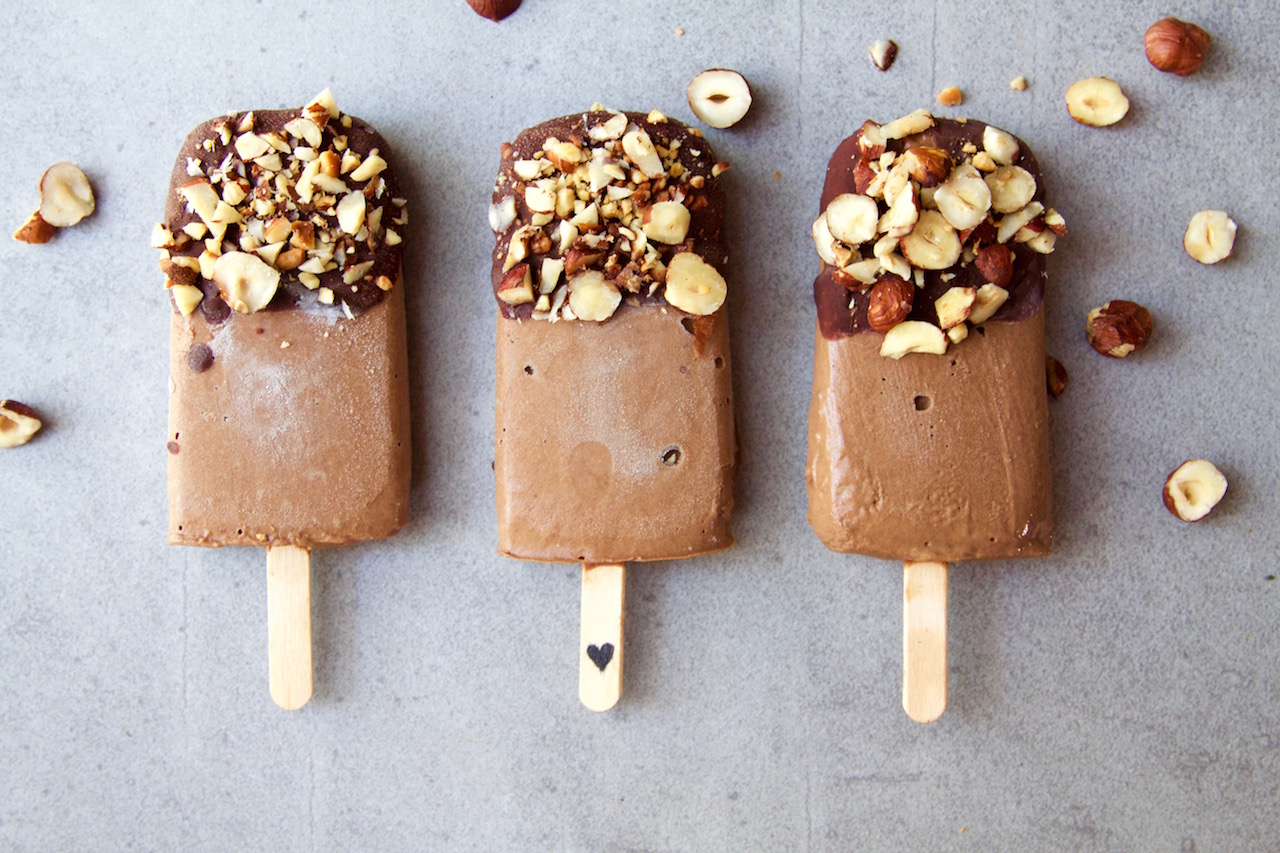 Vegan/ Gluten free/ Dairy free/ Processed sugar free
Chocolate paddle pops were one of my favourite after school treats when I was growing up. I loved  to go to the local corner shop and grab a chocolate paddle pop on a summers day. However, I did a little investigating into the ingredients and one chocolate paddle pop contains –> Dairy ingredients (reconstituted skim milk and/or reconstituted buttermilk, milk solids, cream), cane sugar, glucose syrup (from wheat), cocoa, gelatine, emulsifiers (471, soybean lecithin), flavours, colours (100, 120, 160b), malt extract (from barley), vegetable gum (401). So with these ingredients in mind you may want to choose a healthier alternative! And if you want ice creams that taste just like a chocolate paddle pop then I suggest you give my chocolate fudgesicals a try! These are so delicious and are made using all natural ingredients that are not going to harm your body.
For the rich sweetness I used medjool dates because of their caramel texture. Dates are loaded with fibre which promote healthy bowel movement and contain a large amount of vitamins and minerals. I also used avocado to give these fudgesicals a smooth creamy texture (don't worry you can't taste it in the recipe). The choc hazelnut crunch makes these fudgesicals a little more fancy however If you don't have time to make it you can just have them without the topping (although the crunch is delicious).
These are a perfect summer treat! Hope you have some fun making this recipe ♥♥♥
Chocolate Fudgesicles + Choc Hazelnut Crunch
You will need popsicle moulds + paddle pop sticks + high speed blender or food processor
Ingredients
Makes 6 Fudgesicals:
Chocolate Fudgesicles
2 cups organic coconut milk or coconut cream
8 medjool dates, seeds removed
½ large avocado or 1 small avocado, seed and skin removed
⅓ cup cacao powder
½ teaspoon vanilla powder
Choc Hazelnut Crunch
¼ cup coconut oil
¼ cup cacao powder
2 tablespoons maple syrup
½ cup roasted hazelnuts, chopped
Instructions
Blend all the fudgesical ingredients until well combined (should be thick and creamy). Pour into icy pole moulds and stick one paddle pop stick in each, place in freezer for 6 hours or overnight.
To remove fudgesicals place under running warm water and you should be able to easily pull them out of the moulds.
For the Choc Hazelnut Crunch mix together coconut oil, cacao and maple syrup. Pour chocolate on top of fudgesicals with a spoon over the bowl and sprinkle on the hazelnuts.
Repeat with remaining fudgescals.
Enjoy straight away or store on a plate lined with baking paper. Enjoy xx