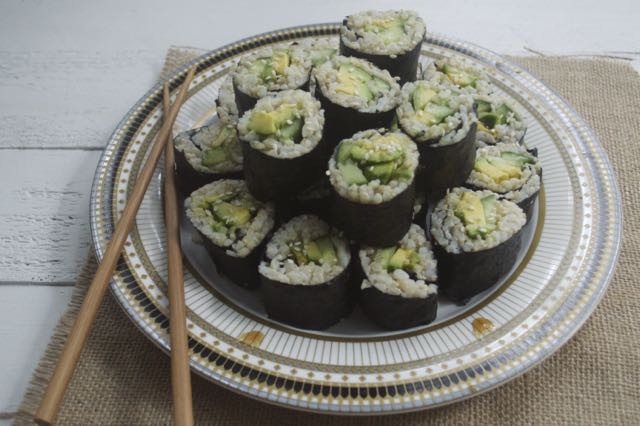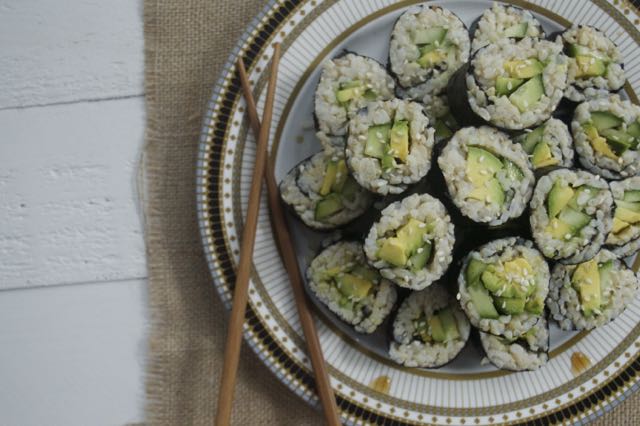 Vegan/ Gluten free/ Dairy free/ Sugar free 
Brown rice sushi is a super easy, healthy meal. I use brown rice because most of the nutritional value stays in tact unlike white rice where the hull and kernel is removed during processing which holds a lot of the goodness. The tricky part is the rolling of the sushi. I find the best way is to not fill up the roll with too many fillings because most of the time mine splits and falls apart. In this recipe all i'm using is avocado and cucumber because it's actually my favourite combo but you may add anything you like this is simply a guide. This recipe is incredibly nutritious and delicious and I hope you all like it!
I found this "how to roll sushi" that you may find useful and if you would like to visually see instructions —> click here! Although I didn't use a bamboo roller for my sushi, some of you may like find it easier to use one.
Brown rice// Brown rice is a whole grain which is full of fibre, is gluten free and is a good source of magnesium, selenium, phosphorus, thiamin, niacin, vitamin B6 and manganese. Because of the fibre content, brown rice is great for regular bowl function —> Happy tummy!
Nori sheets// To make sushi you need nori sheets! Nori is an edible seaweed which becomes soft and flexible when water touches it… great to hold sushi together! Nori also is a great source of minerals especially iodine, calcium, iron, and magnesium!
Brown Rice AVOCADO + CUCUMBER Sushi Rolls
You will need: A chopping board, a sharp knife, medium size saucepan, small bowl of warm water.
Ingredients
2 cups organic short grain brown rice
4 cups boiling water
Packet of organic nori sheets
2 ripe avocados
2 cucumbers
Gluten free soy sauce
Sesame seeds
½ lemon
Instructions
First, bring to boil 4 cups of water and add into saucepan along with the 2 cups of brown rice. Let this simmer for about 20-30 mins and occasionally stir and keep checking to make sure there is still water in it. Once it is cooked very well, turn off heat and leave the lid on and let completely cool (I cooked mine in the morning and made the sushi in the late afternoon).
When you are ready to have some fun making sushi, squeeze half the lemon into the rice and stir together (this is optional but I like the taste!) chop up avocado and cucumbers longways. Lay down your first nori sheet, scoop out brown rice onto the sheet, spread out with the back of a spoon, leave some room at the end (as seen in my first pic) so you can stick it together.
Add filling about 3 slices of avo and 2-3 slices of cucumber then roll, wet your fingers and wet the space that you left at the end and dab your wet fingers on the sheet, finish rolling and stick together.
Now you should have a nice long roll. With your sharp knife, wet the knife and gently cut your log, you should get about 4-5 pieces from one log.
Repeat this process for the remaining ingredients.
Top with soy sauce and sesame seeds... enjoy!!