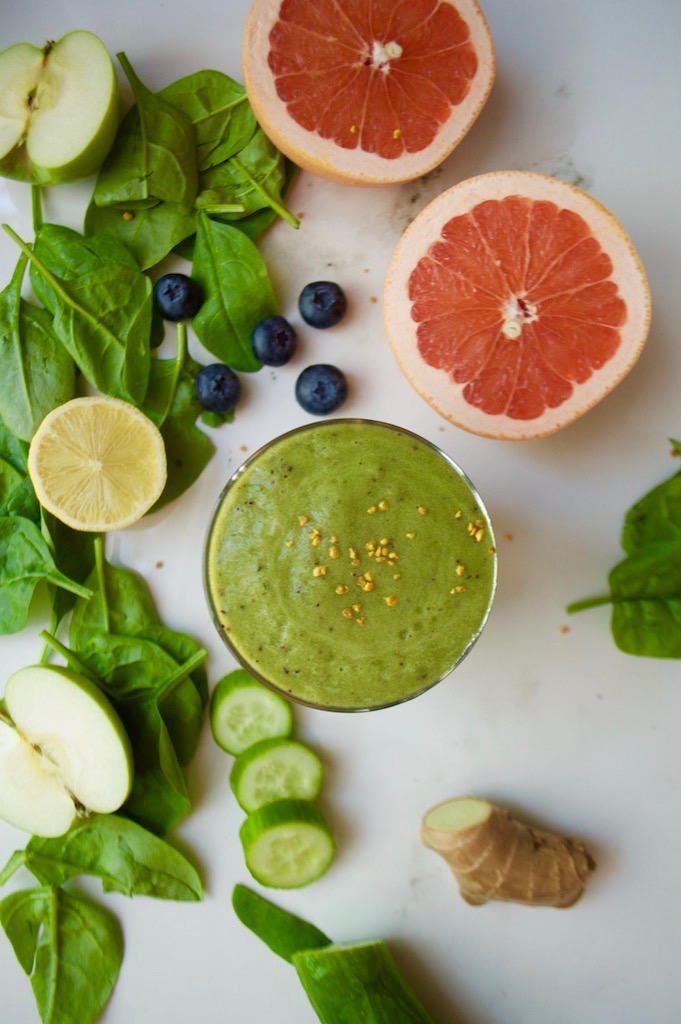 Raw/ Vegan/ Gluten free/ Dairy free
Last week I finished uni for the year (yay) and all the stress and late nights with exams I felt my body could do with a little cleanse and destress. I like going to the gym and doing a few high intensity workouts to help with my energy along with some yoga a few times a week. I have been doing some great yoga workouts just on YouTube and have found this has really helped with my lower back and sleep! I also love finding the time to be out in nature to really clear my mind and re-energise my soul.
You've probably seen lots of green smoothies around and have surely tried at least one before but I thought I would share with you my all time favourite smoothie just before the holidays start! Green smoothies are the best way to get lots of veggies in your body without having to chomp down a big salad. This smoothie tastes delicious and is loaded with with fibre, vitamins, and antioxidants! You can have it as a snack, breakfast or lunch! I prefer drinking my smoothie in the morning and having something else to eat a bit later on.
Ingredient Benefits// 
Spinach is high in antioxidants, vitamin A, B2, C, K, and also contains iron, calcium, potassium, magnesium, manganese, and folate.
Lemons are rich in vitamin C and will help your skin to glow! Lemons are also very alkalising for the body and will help to eliminate waste from your system.
Grapefruit will give your body a boost of vitamin C, regulate blood sugar levels, and aid in digestion.
Green apple are a low calorie fruit high in fibre.
Cucumber is antioxidant, anti-inflammatory, and aids in digestion and weight loss.
Ginger will give your smoothie a slight spicy taste and is great to boost your metabolism and will help to detoxify the body.
Coconut water is super hydrating because of it's electrolyte content, the minerals that are important for muscle movement, brain and nervous system. Coconut water is also gluten free, contains no fat or preservatives.
Blueberries Full of antioxidants!
Bananas are high in fibre and act as a prebiotic, stimulating the growth of friendly bacteria in the bowel.
Beauty From Within Smoothie
Makes 1 green smoothie!
Ingredients
1 cup (225g) spinach
½ lemon skin removed
½ grapefruit skin removed
½ medium cucumber
Small handful of blueberries (fresh or frozen)
1 medium frozen banana
Small chunk of fresh ginger (depending how strong you like it)
½ green apple (if small use a whole one)
½ cup cold coconut water (can add more in depending how thick you want it)
Ice cubes (optional)
Optional add-ins//
Pinch cayenne pepper (add more of a kick to your smoothie)
Sprinkle of bee pollen on top
Instructions
Blend up all ingredients in a blender and pour into glass.
Enjoy the goodness!!